304 Stainless Steel (Food-Grade) Manway Covers
HydraStone initiated a change in industry standard for manway cover material design in 2011.
Guided by firsthand field experience and client feedback, HydraStone identified an ongoing necessity for an improvement to the shortcomings of the existing steel manway cover design:
No amount of cement or epoxy coating could completely protect a carbon steel manway cover from corrosion, and eventual leaking
As the manway is tightened in place or during the removal process, the existing lining cracks or falls off the manway allowing corrosion to take place
Epoxy coatings on manways typically do not meet NSF-61 standard and won't withstand the environment of a hot water storage tank
Cement coatings fixed to manway covers double their weight, adding difficulty in proper placement and gasket seal.  
Efforts to resolve the continuing issues deteriorating, cumbersome steel manway covers, were satisfied by HydraStone's initiation of the 304 Stainless Steel manway cover. At half the weight, the stainless-steel cover allows for an almost effortless installation, ensuring a proper seal every time. Stainless steel is naturally corrosion resistant, clients are confident this will be the last replacement manway cover they will ever need.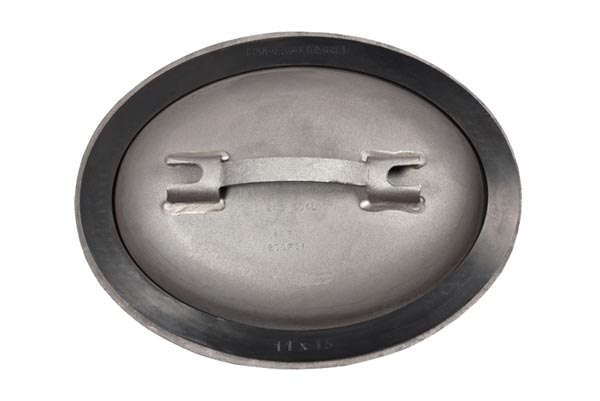 Manway Gaskets
The hot water tank temperature and atmosphere combines for extreme stresses on manway gaskets. HydraStone's liquid-molded, rubber gasket is specifically formulated to meet these demands with performance above industry standard.
Using a Dunlop Rubber Group formula, HydraStone has developed a manway gasket that performs:
Ideal fit and sizing in either 11"x15" elliptical, or 12"x16" elliptical for easy installation

Withstands continuous and sometimes fluctuating operating pressures

Withstands continuous exposure to high temperatures of the hot water tank

Prevents all leakage

Easy replacement without chiseling or buffing

Light compression and versatility ideal for new, or in-service applications
A properly installed HydraStone gasket will meet and exceed all of these expectations.